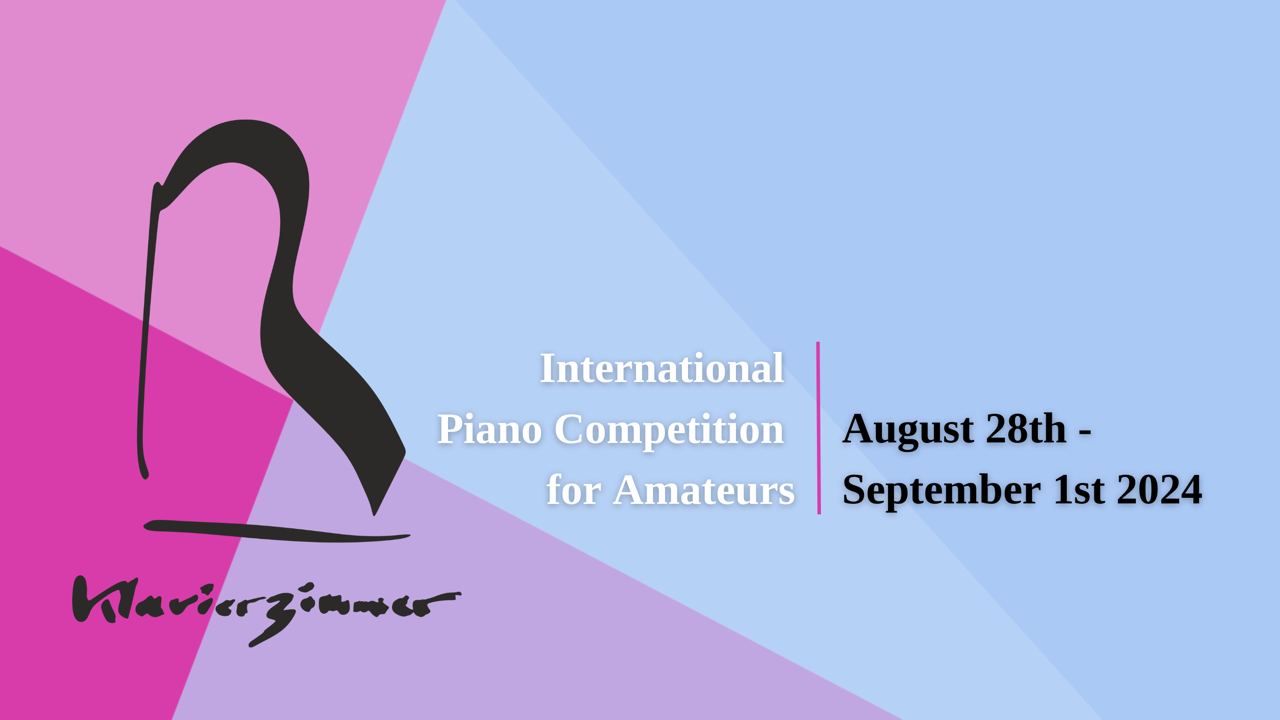 International Piano competition for Amateurs
The Cologne Klavierzimmer is an international piano competition for amateurs and will take place from August 28th 2024 until  September 1st 2024.
The competition is open for all piano lovers all over the world. This year we are expanding the Klavierzimmer adding two new categories: Piano Four Hands and Chamber Music Piano/Violin.
The competition is called Klavierzimmer – Piano Room – because it emphasizes the idea of the private and contrasts it with the professional musical career. It is foremost aimed at adult piano lovers, regardless of age. While you can get together with other instruments in orchestras of lovers, as a piano-playing person you sometimes remain quite alone. Here you can show the results of your practicing. 
The primary goal is to share the experience of piano playing: the Klavierzimmer is conceived as a competition that allows an inspiring togetherness. It offers the opportunity to display and expand one's skill level, to play for oneself and others, to listen, to reflect, to meet like-minded people, and to receive new thoughts in the unifying and magical power of the piano.
The competition idea is based on the great need for live music and live performances, which is the reason for a a hybrid concept. Everyone is welcome and can participate either online or with a live performance.
This brief presentation of our idea culminates in Egon Friedell's declaration of love for dilettantism3 
Only talents are original, geniuses only repeat the same truths over and over again.
According to the applicable hygiene regulations, the award winners will have a final concert either in open air form or at the competition location in the Kunigunde sound space. The concert will take place on Sunday, August 27th, 2023 at 3 p.m. and is public.
Conditions of participation
The competition is addressed to people of all ages. It is essential that you do not earn your living by playing the piano in public, in whole or in part, and that you are not a piano or violin student at a Hochschule or University. 
After all, this is for the amateurs! 
All participants in presence play on a beautiful Bösendorfer grand piano in the church St. Heinrich und Kunigund, Cologne-Nippes. 
There is also the possibility of online participation by sending in one or more videos. A separate video may be recorded for each piece.
The videos may not be cut or edited in any way. The videos must be recorded explicitly for the Cologne Klavierzimmer. To make this clear, please place a paper with the inscription "Third Kölner Klavierzimmer" clearly visible in the camera.
The videos will be sent by email to: wettbewerb@klavierzimmer.com via wetransfer.com.
We will then upload the videos to the competition YouTube channel after judging and with your consent.
Registration on the site is open from April 1st to August 1st 2024.
Repertoire
The repertoire of the participants is free to choose. Everyone should present himself with his favorite pieces, also own compositions, from 5 to a maximum of 15 minutes. Playing from memory is welcome but not obligatory. This applies to the live performance as well as to the video recording.
The competition will be held in one round only.
The jury consists of personalities from the piano world who are highly experienced in both
concert performance and pedagogy, and for whom the artistic idea of amateur music-making
occupies an important position in everyday life.
The competition is aimed at piano players of all ages. There are 7 age categories.
A • 4-8 years (born 2016 and later)
                   B • 9-12 years (born 2012-2015)
C • 13-16 years (born 2008-20011)
                   D • 17-21 years (born 2003-2007)
E • 22-41 years (born 1983- 2002)
                   F • 42-65 years (born 1959-1982)
G • 66-99 years (born before 1958)
The participation fee is 35 Euros for categories A,B,C and D.
The participation fee is 65 Euros for categories E,F, and G.
Participants whose teachers are members of the DTKV will receive a 10% off.
Final concert
There will be a public final concert on Sunday, September 1st 2024 at 4 pm. Videos of the online participants and the final concert of the first Cologne Piano Room in August 2022 can be found at: final concert 
Prizes are awarded according:
All participants will receive a diploma. 
The first prize for each group will be a professional video/sound recording, which will be made freely available to the prize winners. 

Invitation to the Bösendorfer piano factory
The winner 2023 – Viorica Izvoranu (Romania)

Further prizes: Orchesterkonzert with Kammersolisten Berlin – Winner 2023 Roman Cybulski (USA), Summer Piano Vocation in Varazdin (Croatia) – Winner 2023 – Emanula Zahari Donici (Germany)
Paula Mutig +49  174 9534141 (Telegram)
Svetlana Dedova +49 176 62020171 (WhatsApp)
Klavierzimmer e.V.
Gocher Strasse 19
50733 Köln, Germany
Tel.: +49 221 13 95 40 99 wettbewerb@klavierzimmer.com
Klavierzimmer e.V.
IBAN:DE39 3705 0198 1935 8763 40 SWIFT/BIC: COLSDE33